Core Supplement Kit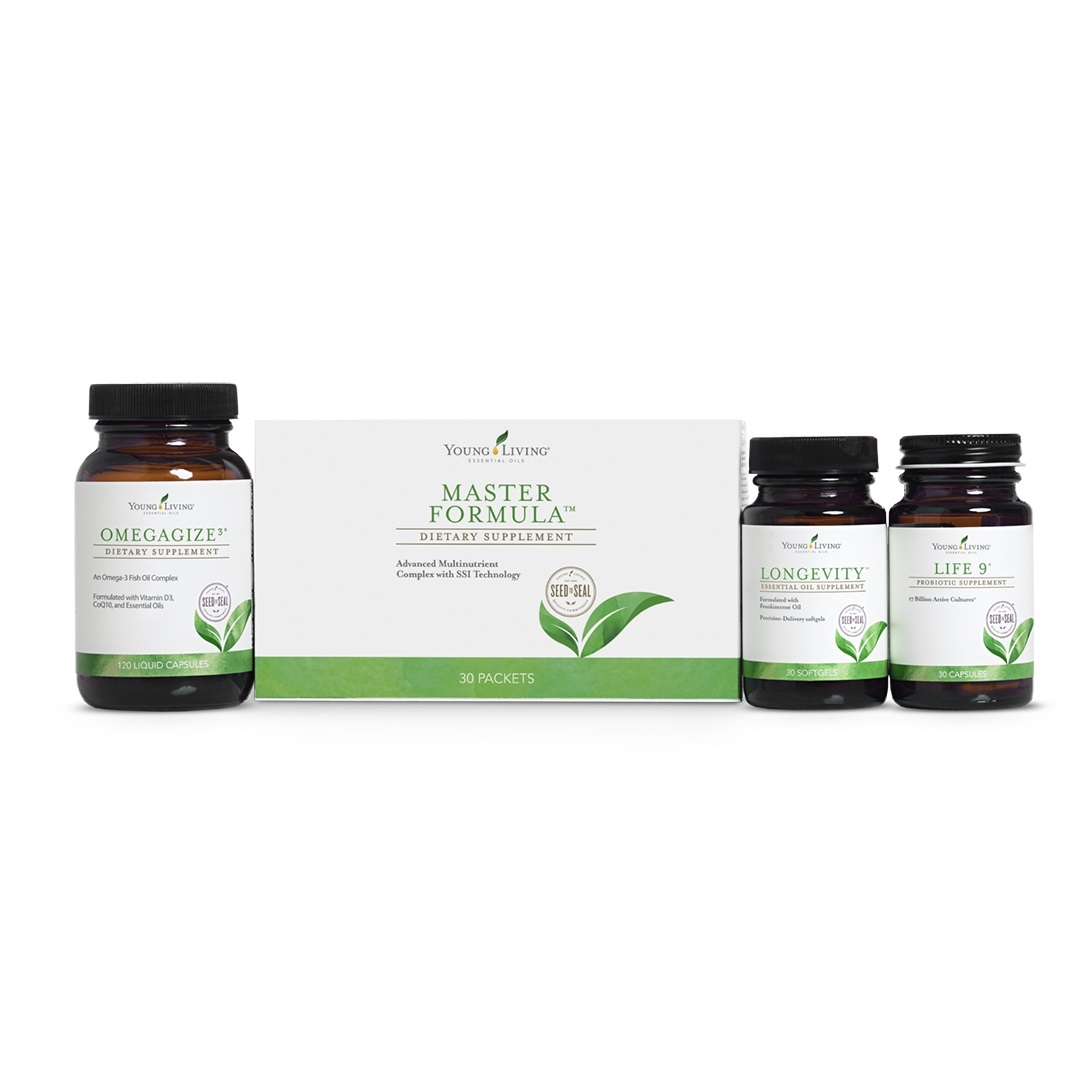 About the Product
Core Supplements™ is a convenient and cost-effective solution to incorporate additional vitamins, minerals, and nutrients into your daily routine. This 30-day supply kit includes OmegaGize3, Longevity Softgels, the new Life 9, and Master Formula, a full spectrum, multinutrient complex.
Price
Retail: $242.11
Wholesale: $184.00
YL Product #: 3506
How to Use
Life 9
Take 1 capsule every night following a meal or as needed.

Longevity 30 Softgels
Take 1 softgel capsule once daily with food or as needed.

OmegaGize³
Take 4 liquid ocean capsules daily, 2 in the morning and 2 in the evening for daily maintenance.
Take 8 liquid ocean capsules for greater health benefits.

Master Formula
Take one packet (1 liquid capsule, 1 caplet, 2 capsules) daily with water or with 1-2 fl oz. of NingXia Red®.
Ingredients
Life 9
Lactobacillus acidophilus, Bifidobacterium lactis, Lactobacillus plantarum, Lactobacillus rhamnosus, Lactobacillus salivarius, Streptococcus thermophiles, Bifidobacterium breve, Bifidobacterium bifidum, Bifidobacterium longum

Longevity 30 Softgels
Virgin coconut (cocos nucifera) oil, fractionated coconut (cocos nucifera) oil, Thyme (thymus vulgaris) leaf oil, Orange (citrus sinensis) rind oil, Clove (syzygium aromaticum) flower bud oil, Frankincense (boswellia carteri) gum/resin oil, gelatin, water, glycerin, aqueous coating solution (oleic acid, sodium alginate, medium-chain triglycerids, ethylcellulose, ammonium hydroxide, stearic acid), mixed tocopherols (vitamin E)

OmegaGize³
Fish Oil, Clove Essential Oil (Syzygium aromaticum), Rice Tocotrienols, CoQ10 Kaneka™, German Chamomile Essential Oil (Matricaria recutita), Spearmint Essential Oil (Mentha spicata), Vitamin D (Cholecalciferol), Mixed Carotenoids, Other ingredients: Gelatin (tilapia), Silicon Dioxide, Purified water

Master Formula
Liquid Vitamin Capsule: Vitamin A (from beta carotene), Vitashine Vitamin D3 (Cholecalciferol), Vitamin E (d-alpha tocoperyl succinate), Vitamin K (K2 as menaquinone-7), Proprietary Master Formula Essential Oil Blend: Turmeric (Curcuma longa) root oil, Cardamom† (Ellettaria cardamomum) oil, Clove† (Syzygium aromaticum) oil, Fennel† (Foeniculum vulgare) oil, Ginger† (Zingiber officinale) root oil, Sunflower lecithin (non-GMO), Hydroxypropylmethylcellulose.

Micronized Nutrient Capsule: Vitamin A (from beta carotene), Thiamin (Vitamin B1 from organic food blend), Riboflavin (Vitamin B2 from organic food blend), Niacin (Vitamin B3 as niacinamide from organic food blend), Vitamin B6 (Pyridoxine from organic food blend), Folate (Vitamin B9 from organic food blend), Vitamin B12 (Methylcobalamin), Biotin, Pantothenic Acid (Vitamin B5 from organic food blend), Iron (Ferrous Bisglycinate chelate), Magnesium (Magnesium glycinate chelate), Zinc (Zinc Bisglycinate chelate), Selenium (Selenium glycinate chelate), Copper (Copper bisglycinate chelate), Manganese (Magnesium bisglycinate chelate), Chromium (Chromium nicotinate glycinate chelate), Molybdenum (Molybdenum glycinate chelate), Proprietary Master Formula Capsule Blend: Atlantic kelp, Inositol, PABA (Para amino benzoic acid), Boron citrate, Lycopene, Spirulina algae, Barley grass, Citrus bioflavanoids, Orange fruit powder, NingXia wolfberry (Lycium barbarum) powder, Olive (Olea europea) leaf extract, Hypromellose, Magnesium stearate (vegetable source), Silicon dioxide, Microcrystalline cellulose.

Phyto-Caplet:Calcium (Calcium carbonate), Potassium (Potassium chloride), Choline (Choline bitartate), Proprietary Master Formula Tablet Blend: Fructooligosaccharides, Trace minerals Spectra® Fruit, Vegetable, and Herb Blend: Coffea arabica fruit extract, Broccoli sprout concentrate, Camellia sinensis extract, Onion extract, Apple extract, Quercetin concentrate, Tomato concentrate, Broccoli concentrate, Acai concentrate, Garlic concentrate, Basil concentrate, Turmeric, Oregano concentrate, Cinnamon concentrate, Elderberry concentrate, Carrot concentrate, Mangosteen concentrate, Blackcurrant extract, Blueberry extract, Sweet cherry concentrate, Blackberry concentrate, Chokeberry concentrate, Raspberry concentrate, Spinach concentrate, Kale concentrate, Billberry extract, Acerola extract, Camu camu concentrate, Brussels sprout, Silicon dioxide, Stearic acid, Croscarmellose sodium, Organic maltodextrin, Organic sunflower lecithin, Organic palm olein, Organic guar gum.
Why pay retail?
Save up to 24% with Wholesale Pricing!
Did you know you could save up to a whopping 24% on your purchase by becoming a Young Living Member?
What does it mean to be a member? Well, it doesn't mean you are committing to purchase month after month after month. It doesn't mean you are now a salesperson with a quota. What a membership does mean is that you have the ability to purchase a great set of starter oils and you get to make all future purchases at a great discount! It also means that once you fall in love with Young Living products, like I did, you will have the option to tell others about them AND receive a commission check on their purchases!
Ready to sign up? Need to learn more? Click below! Want to just purchase retail for now? No problem! There's an option for that below too!