AlkaLime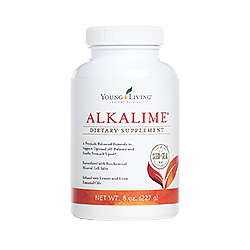 About the Product
AlkaLime® is a precisely-balanced alkaline mineral complex formulated to neutralize acidity and maintain desirable pH levels in the body. Infused with lemon and lime essential oils and organic whole lemon powder, AlkaLime also features enhanced effervescence and biochemic cell salts for increased effectiveness. A balanced pH is thought to play an important role in maintaining overall health and vigor.
Price
Retail: $47.04
Wholesale: $35.75
YL Product #: 3199
How to Use
Add one level teaspoon into 4–6 ounces of distilled water, mix thoroughly, and drink immediately. Mix only with water. Take 1–3 times daily, one hour before meals or retiring to bed as an aid in alkalizing.
Why pay retail?
Save up to 24% with Wholesale Pricing!
Did you know you could save up to a whopping 24% on your purchase by becoming a Young Living Member?
What does it mean to be a member? Well, it doesn't mean you are committing to purchase month after month after month. It doesn't mean you are now a salesperson with a quota. What a membership does mean is that you have the ability to purchase a great set of starter oils and you get to make all future purchases at a great discount! It also means that once you fall in love with Young Living products, like I did, you will have the option to tell others about them AND receive a commission check on their purchases!
Ready to sign up? Need to learn more? Click below! Want to just purchase retail for now? No problem! There's an option for that below too!